A normal distribution is used to describe a set of data whereby the bulk of the data converges around a central point. This point will be the mean or average denoted in mathematics by the symbol µ. In graphical format this will look like a bell curve with the mean falling at the highest point where the central line lies.
One example of this would be for students that sit a state exam. The bulk of students will score the average C grade, while smaller numbers of students will score a B or a D and an even smaller number will score an A or an F.
Another example would be the height of a countrys female population. The central point or average would be around 5 5" with the numbers of taller and smaller tapering of at either side of the curve.
Both cryptocurrency social activity and sentiment adhere to this distribution pattern
µ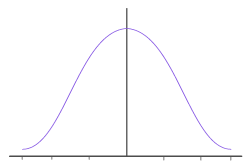 Normal Distribution Bell Curve